Project Management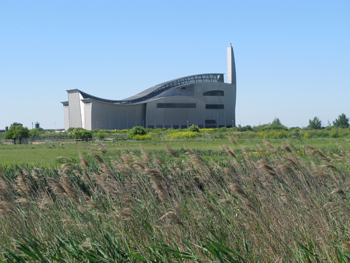 Tideline
2010- 2012
Tideline was a Heritage Lottery Fund project delivered by Bexley Council, working with writer Sarah Butler in Lower Belvedere. Sarah worked with volunteers, schools and groups to uncover hidden stories, poems and tales about the area, and from this rich source material crafted 4 new poems. The project culminated in 2012 with a public art work, walking route across the marshes featuring Sarah's writing and an exhibition that toured local libraries. All of this is captured in a beautiful project publication featuring photographic portraits by Eva Sajovic. The project also has a website belvederestories.co.uk where you can find out more.

Our View
2010- 2012

Our View was part of Accentuate, the 2012 Legacy Programme for the South East, inspired by the values and achievements of the Paralympic Movement. Accentuate was made up of 15 ambitious projects across the arts, film, tourism, business, sport and heritage
Our View ensured that the views and contributions of Deaf and disabled people informed every level; from the steeering group to project delivery. Accentuate was funded by Legacy Trust UK, creating a lasting legacy from the London 2012 Olympic and Paralympic Games across the UK. Screen South was the home of Accentuate.
Accentuate and Our View created a number of publications including one which explored the different perspectives prevalent within disability art and sport, available to download from the Accentuate website: http://www.accentuate-se.org.uk/resources-publications
photo: Jon Adam's Dysarticulate2, Brighton Beach, 2011 as part of Upstream, an Accentuate project delivered by DaDa South.
1 Mile Away
2008-09
Spread the Word commissioned a writer in residence to create a new piece of work exploring the many narratives that co-exist in the small but complex part of the city surrounding their office in SE11. Writer, Kat Joyce and Theatre Director, Nathan Curry responded to the brief, creating a project called '1 Mile Away' which investigated the local area and involved local people in playwriting workshops. From the material generated, Kat scripted a site responsive promenade play that drew together the disparate narratives encountered during her process.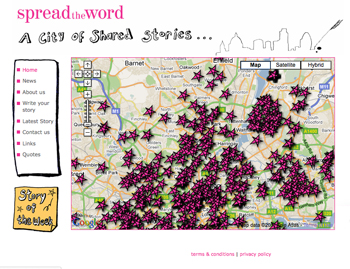 A City of Shared Stories
2008-09
A City of Shared Stories website links 1000's of new stories and poems to locations in London. Commissioned by Spread the Word, London.
Write Up Your Street
2007-08
London themed writing competition, Spread the Word, London
Resonant
2007
Professional development training project for deaf and hearing artists, funded by Arts Council, delivered in partnership with SPACE, London.
Trajectory
2004-06
Professional development and mentoring programme for mid career artists, funded by
Arts Council, delivered at SPACE, London.