Collaborations
Drawing Connections
2015 – ongoing
drawingconnectionscollective.wordpress.com
Drawing Connections is a group of 20 artists who have chosen to work collaboratively through the medium of drawing as a way to challenge both their individual practices and fixed notions of what we might consider drawing. 
Drawing Connections includes: Tony Blackmore – Bethe Bronson – Camilla Brueton – Alison Carlier – Jill Evans – Helen Goodwin – Fiona Grady – Ruben Hale – Barry Haskins – Zahura Sultana Hossain – Sharon McElroy – Claire Manning – Gill Newton – Esperanza Perkins – Paul Ridyard – Nicki Rolls – Zita Saffrette – Nicola Saunderson – Angelika Steiger – Deborah Whitney
point and place
2001 – ongoing
www.pointandplace.net
point and place is a group of artists whose individual work includes drawing, movement, writing, sculpture, sound and social exchange. We have worked together since 2001 and produced point and place in 2007, a unique double-bound bookwith endlessly shifting viewpoints and thresholds . The group continue to explore the possibilities of collaborative practice despite now being geographically scattered.
point and place is: Julie Brixey-Williams, Camilla Brueton, Simon Kennedy, Theron U. Schmidt, Rajni Shah and Caroline Younger.
Postcards from Leather Lane
2010
Postcards from Leather Lane was a collaboration with writer Aoife Mannix, commissioned by Spread the Word and Camden Libraries. Inspired by Aoife's work with local community groups and stall holders, we designed and produced a booklet of postcards about Leather Lane Market in Camden. The postcard booklet featured Aoife's writing, accompanied by my images.
Object Retrieval
Artist Joshua Sofaer and curator  Simon Gould, in association with UCL Museums & Collections initiated a mass participation project to exhibit and explore a single object from the UCL Pathology Collection on a routemaster bus over
7 days, 24 hours a day. I was one of 7 'research provocateurs' who manned the bus 24 hours a day and initiated research with passing public, students and academic from UCL.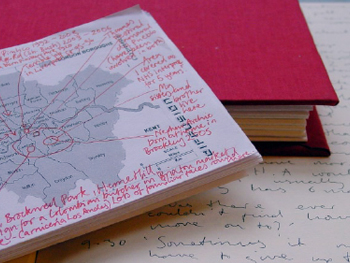 Social Tapestries
2005-2006
www.socialtapestries.net
Whilst working for Proboscis on their Social Tapestries project I became involved in several interactive projects which explored the potential benefits and costs of local knowledge mapping and sharing. Feral Robots linked hobbyist robotics with community environmental activism. I also worked with a shortlife housing co-op, St Marks to uncover their history and look at ways of utilising technology to retain future knowledge. Reports from both projects are available to download from the Social Tapestries site http://socialtapestries.net/outcomes/index.html.