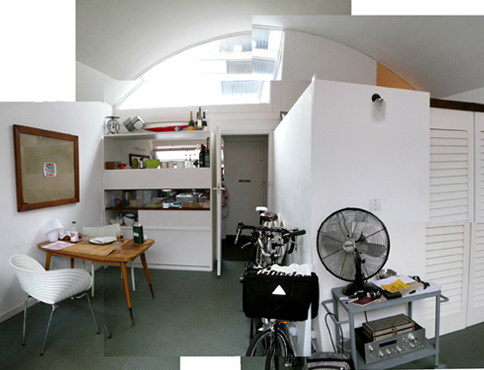 Tea, Time & Interiors
2010
Photographs and line drawings with collage on paper.
Golden Lane Estate, London
Series of 10.
Tea, Time and Interiors was the culmination of my residency at Golden Lane.  I invited myself round to people's homes within the estate for a cup of tea and a chat; an opportunity to document the layout of their living spaces and explore their relationship with the architecture. The architects had very specific ideas about how people would live in the well designed, but compact flats. Single beds were intended to disappear behind sliding screens, a change in flooring would delineate an 'indoor balcony', bedrooms were partitioned from living areas by 3/4 high walls, doors slid rather than opened in places, everywhere light and air flowed through. Using photography, drawing and collage, Tea, Time and Interiors documented contemporary living in 10 flats on the estate.